[full_width]
[/full_width]
Congratulations! You may have just found out the exciting news that you're going to have a baby!
This can be rather a  rather confusing time trying to work out dates and what are the next steps you should take. Over the next few months we will be posting a week by week guide to your pregnancy, what to expect, things to think about and what your baby will be doing so keep an eye on our blog.
Week 4
Has that little + sign come up, or 2 little lines? Then congratulations! By the time you find out you are pregnant your baby is already the size of a poppy seed and is quickly making a comfy home for themselves. At this time you are already considered to be 4 weeks pregnant as your dates are calculated by the first day of your last period. If your periods are irregular then speak to your GP to work out your dates.
Around 6-12 days after fertilisation, your growing placenta begins releasing the hormone HCG which is what will make your pregnancy test show up positive and can cause nausea and vomiting called morning sickness.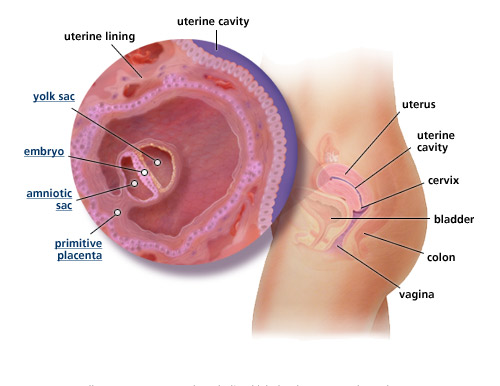 You may feel as though your period is still due if you are experiencing stomach cramps and sore breasts but this is very normal. As the fertilised egg implants into the uterine wall and the placenta begins to grow, you may get some cramping and occasionally spotting which is perfectly normal but can still be a little worrying. If you are concerned at all then please see your doctor.
Your body is already working hard as the amniotic fluid is already forming inside the sac which will help to protect your baby over the next 9 months. Your breasts are already changing and preparing for the birth of your baby and the production of milk. With all this hard work and new hormones racing, you can expect to feel a little tired and emotional.
Things you may want to think about this week:
Booking a GP appointment – they will refer you to the hospital or birthing centre of your choice and the midwives will then be in touch.
Take folic acid – this helps with the formation of the baby's nervous
system and helps reduce the risk of spina bifida. Vitamin D can also be helpful during pregnancy and while breastfeeding as your levels can drop.
Quitting smoking – if you smoke you may want to look at cutting back or stopping smoking. Smoking during pregnancy can cause premature labour or can restrict baby's growth. It is worth discussing this with your GP at your first appointment.
Cutting down or giving up alcohol – a lot of us love a glass of wine on a night out or after a long hard day, but alcohol can cause problems with the baby's development with issues such as facial abnormalities or learning difficulties. It is advised that the worse time for drinking is within the first 3 months while the baby is developing the quickest and can potentially cause a miscarriage.
Reducing consumption of caffeine – it is suggested you have no more than 200mg of caffeine a day. So try switching to caffeine free coffee or tea, or swap to fruit juice instead.